1. Super Corridor Tower 75 meter
Construction of the state's maiden 25-storey building at Super Corridor received nod from the High Rise building Committee, here on Friday. The Committee gave its approval for the ambitious Rs 300 crore building project of the Indore Development Authority (IDA). A meeting of the committee was held in the IMC, which was presided over by IMC commissioner, Ashish Singh. IDA CEO Kumar Purushottam was also present in the meeting and he highlighted various features of the high-rise tower.
Besides joint-director, Town and Country Planning Rajesh Nangal, PWD superintending engineer, officials of fire brigade department and Discom were also present in the meeting. Detail information about the project was given by building architect KK Doshi of the Doshi and Associates.
Purshottam said that this would be the tallest building in the state with a height of 75 meters. A mall, IT company and others will come up in this building. It is also proposed that there will a five-star hotel on the 5th floor.
Talking to Free Press, Shankar Lalwani, IDA Chairman, said construction of the building would start soon as we have already floated tender for the building. It may be noted that the IDA Board had already approved the proposal in its meeting held on July 25, this year. Purushottam, CEO of the IDA, said: "We are in the process of bringing a bond of Rs 500 crore for the development of Super Corridor. Out of this amount, Rs 300 crore would be spent on this building.

2. skye-luxuria20 70 meter apx.
Towering above the bustling city, emerging in Vijay Nagar, the most sought after and envied location of Indore, Skye Earth Developers brings you a home crafted to be the ultimate expression of uber luxury living. The thoughtful design & intelligent architecture has led to creation of residential master pieces, giving you an incredible view of the mesmerising skyline of Ab Road and Vijaynagar & the beautifully landscaped lush green gardens. With just One or Two apartments per floor it ensures your home is a true heaven of peace & privacy.
The project has been designed to offer the finest experience of exotic & luxury living which is noticeable with just 60 exclusive 3,4 & 5 bed residences that would add to the aspiration you would call home. Its an infusion of exquisite architecture & exceptional planning that led to creation of spaces as big as a 2 BHK for your living room. The efficient utilisation of space has been imperative without comprising on the luxury aspect. Everything is designed to help you live grand, with all world class amenities under the roof along with a podium garden its the epitome of contemporary living and high end lifestyle. And to introduce this to the city, is Indore's premier developer Skye Earth, with yet another benchmark in luxury living segment.
The megastructure is proposed opposite to Shalimar township on 200 feet wide AB road (BRTS corridor) with cities most prominent commercial, medical, leisure, educational and shopping destinations including Radisson, Fortune Landmark & Sayaji hotels; C 21and Malhar Mega malls, Bombay and Apollo hospitals and various other hi-end commercial hubs all being successful and fully occupied hence making it the most coveted business structure of the city in near future.

3. Pinnacle D Dreams 62 meter
Pinnacle d Dreams located between the buzzing A.B Road, Ring Road and the Agra Mumbai By-pass Road, Close to the prime areas that house the major entertainment & shopping malls, a hospital, educational institutes & a Five star hotel. Nestled amidst 11.39 acres of prime unexplored land in Indore, Pinnacle D Dreams breathes life into the concept of a dream home. The complex has 11 meticulously planned High-rise towers of civilated lifestyle & unmatched luxury. These well planned apartments, hosts of many balconies that look over the large green vistas merging the interior space with the external environment seamlessly. Amongst the 11 grand structures, Pinnacle presents 8 Premium Towers that offer 2 BHK, 2.5 BHK, 3 BHK & 4 BHK spacious apartments, all raising up to 16 storeys.
4. Maple Woods 59 meter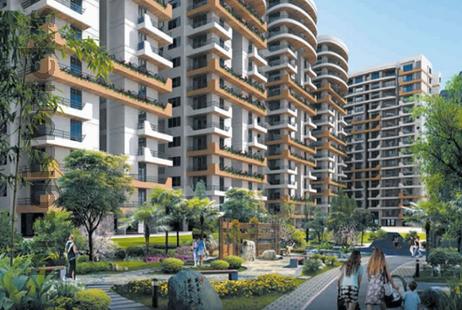 Maple Woods, spreads across 15.67 acres. The site is located on a proposed 30 meters wide master plan road near Rau By-pass at Pipliya Kumar village road and connected to Dewas Naka. It is located in the northeast side of suburbs of Indore and is easily accessible to Vijay nagar, the new business district. With 1340 luxurious flats, of 45 meter height this sprawling residential hub is all set to give excellent privilege to its residents.
5. The Empress 58.62 meter
The Empress, magnificent residential project is carefully designed, planned and executed. It answers all your needs of a dream home. Ever living space is beautifully blend of design, superior quality and functionality so that you lead a lavish lifestyle. The Empress is result of great foresight, so every amenity here answers the needs of a modern life. Rediscover a new meaning to luxurious living in one of the most ideal locations. The Empress is a perfect amalgamation of luxury living and high-end features where you can create beautiful moments with your loved ones.
---
---
---
WHY US?
The Architecture Times is an Online Architectural Journalism platform to inspire and spread knowledge among the Designing Mass in India.
Contact Us
The Architecture Times, Indore
info@thearchitecturetimes.com
Follow Us
© Copyright 2019 - The Architecture Times