A Idealouge in Chennai Has Been Fighting For Over 40 Years To Make Indians Adopt Rainwater Harvesting
Chennai is one of the largest coastal cities in India. Rapid economic growth of the city transformed it into the 4th most populous city in India and 36th most populous in the world.
Though Chennai has 140cm average annual rainfall (higher than the national average), that's hardly enough to avoid acute water scarcity in the summer. At the same time, wetlands in the city have decreased from 650 to only 27.
Dr Sekhar Raghvan took up the challenge to make a difference all alone in the city he lived and loved. He went on knocking every door in the city, educating & demonstrating to people about the benefit of Rainwater Harvesting and its techniques.
Dr Raghvan was born in Chennai on 17 October 1947 and got his degree MSc in Physics in 1967 when he was just 20 years old and went to achieve a PhD in the same in 1976 from Madras University. His love for the city is so much that many luring career opportunities from distant places could not distract him from his noble motive.
What is Rainwater Harvesting and what are the process involved?

Rainwater Harvesting (RWH) is all about harvesting rainwater to augment the municipal supply as well as to sustain the surface water bodies and the groundwater source.
Within cities and particularly at the micro level, it has only two aspects: to collect rainwater in plastic/masonry tanks for immediate use and to inject rainwater into the soil to sustain the groundwater source, which is also called recharging the groundwater source. This must have happened naturally when large tracts of land were open and unpaved enabling rainwater to percolate into the soil. This is no longer the case so we have to resort to artificial recharge by using wells.
Constructing Recharge wells are also being used. In urban and fast developing peri-urban areas and not so much in rural villages. In urban areas, these wells will certainly help prevent against drought if they are designed and constructed in the right way. It requires a fairly deep hole to discharge rainwater into the soil. They can be narrow (wells) or wide (pits) depending on the quantity of rainwater likely to be harvested. We insert a PVC pipe into the pits and cement rings into the wells in order to prevent the holes from caving in. Depth is determined by the nature of the subsoil. Sandy soil is preferable, clay and rocky soil is not suitable for recharge wells.
How successful has it been so far? How did it affect people's life in Chennai?

The Chennai experience itself is a success story in more than one way. It was in Chennai that grassroots level work to promote RWH began as early as 1995, which grew into a mass movement in the next decade. It was in Chennai that RWH was made mandatory in 1994 itself for all new buildings and in 2002 for both new and old buildings. It was in Chennai that the country's first Rain Centre was inaugurated, which is a joint effort of individuals, NGOs and the government. It is this joint effort, which has made RWH so popular and is very important for the success of any social or environmental issue.
The success of the project in Chennai can be explained in two ways:
First by the increase in awareness levels about the need, relevance and importance of RWH among various sections of the society. Rainwater Harvesting is no longer an unknown thing for the people of not only Chennai but the entire state of Tamil Nadu;
Second, by the benefits, those residents have got by implementing RWH in their respective premises. The benefits will not come overnight but only after a few years and this is precisely what has happened in Chennai.
People had implemented RWH in 2003 and they reaped the benefits in 2005. In a survey carried out by our centre, it was found that the groundwater level in the entire city had gone up by 6 to 8 metres a clear indication of the success of RWH. The wells, which had remained dry for a couple of decades, came back alive. This was true about the quality of groundwater as well. One will be surprised to note that we are using the well-water even for potable uses and that we do not have a municipal supply of water in our own complex.
What/who motivated you when it comes to rainwater harvesting?

I have been living for the past 47 years in an area called Besant Nagar in Chennai, located within one k.m. from the sea. Its soil is very sandy and the groundwater in this area used to be very good till about 25 years back. Due to an increase in the number of multi-storeyed complexes, subsequent over-exploitation of groundwater and failure to put in large quantities of rainwater into the soil during monsoon, the groundwater started becoming saline. This motivated me to get into RWH. Secondly, my observation that immediately after a heavy shower, all the rainwater percolates down into the soil and the water level in the wells rising subsequently, made me realise that RWH is very important in urban areas in general and in coastal cities in particular, where there is a heavy dependence on groundwater.
Who came forward to help you in your project?

The Akash Ganga Chennai group felt the need for a house in a central residential locality of Chennai, where the residents can see for themselves, the RWH systems in action and also get the necessary information. Hence it was decided to set up a model house called RAIN CENTRE. As a first step, in order to mobilise funds for creating the rain center, a trust called Akash Ganga Trust was formed in January 2002 with myself and Mr.N.R.Sudarshan as the first trustees and Mr V Varadarajan as a trustee. The trust was registered both with the Registrar of Cooperative Societies of the Tamilnadu Government as well as with the Income Tax department of the government of India under Sec. 12A of the IT Act. The trust had also obtained an exemption under Sec. 80G of the It Act.
What were the challenges you faced?

When I started my campaign in 1995, residents did not understand what I was talking about and some of them felt that I was a crazy person trying to talk about an issue which was non-existent and irrelevant. They felt that there was enough groundwater to last for decades and felt there was no need to get into RWH. Some of them failed to understand that groundwater was only rainwater percolated over the last few years, last few centuries and so on. Only after campaigning for a couple of years in my area of Besant Nagar, I realised how difficult it is to educate the urban resident,
In fact, in some complexes, the watchmen were clearly told not to allow me inside. It was a hard struggle for the first three years. In 1998, when the print media, the neighbourhood newspapers, in particular, started writing about RWH and my campaign that it gathered momentum among the residents and people started implementing RWH in their respective premises with my advice and help. I had in the meantime developed a group of plumbers who could execute RWH.
In 1998, when the print media, the neighbourhood newspapers, in particular, started writing about RWH and my campaign that it gathered momentum among the residents and people started implementing RWH in their respective premises with my advice and help. I had in the meantime developed a group of plumbers who could execute RWH.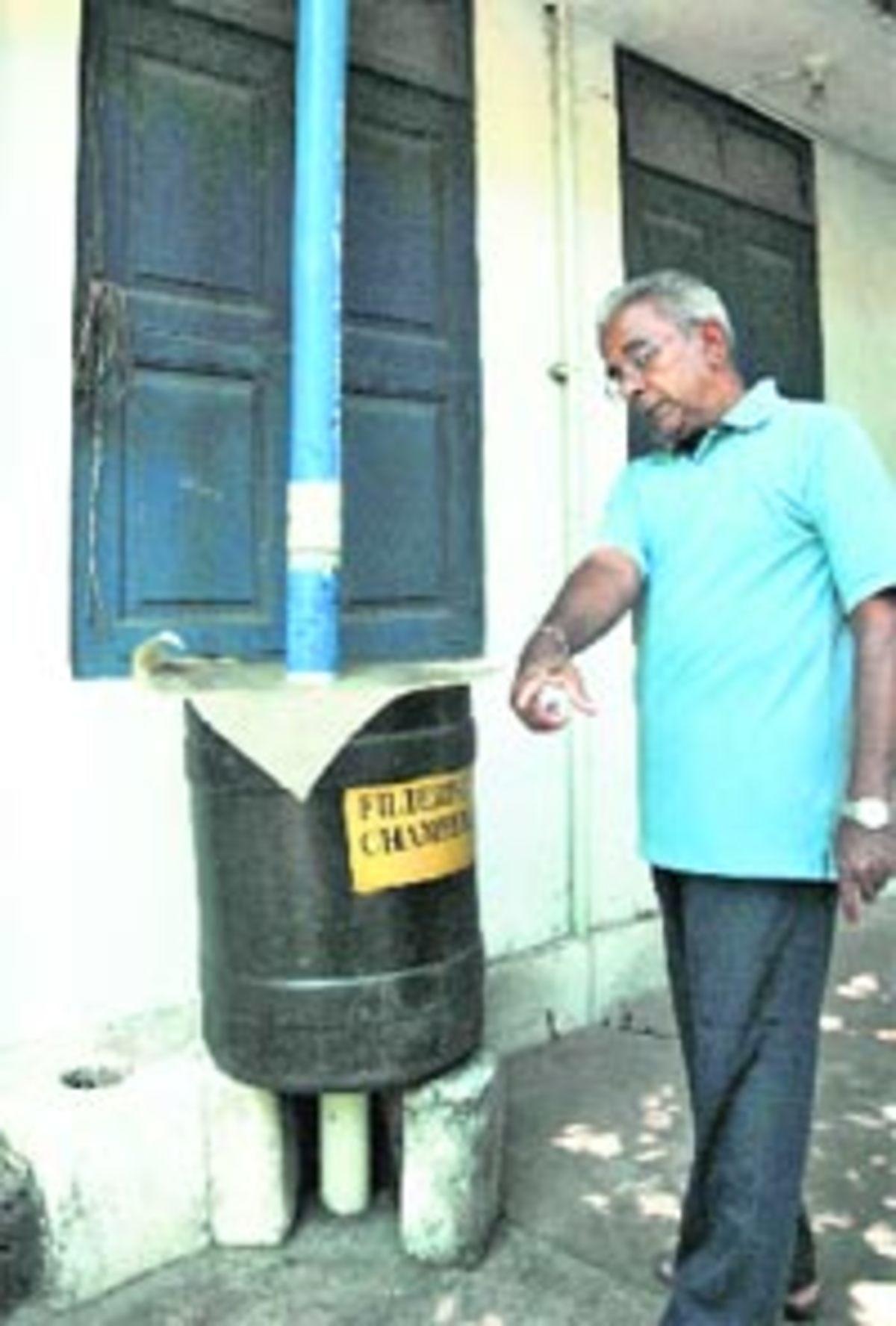 Govt. did not show any interest in RWH nor in my activities, except for a couple of senior officials, who helped me in promoting RWH in a small way. It was only in 2001, by which time RWH had become somewhat popular, the govt. decided to create awareness about RWH and formed a high-level committee of senior govt. officials headed by the Secretary, Municipal Administration and Water Supply, Mrs.Shantha Sheela Nair, I.A.S. as its head. She was an extremely committed person and was interested in promoting RWH at the govt. level and included me, the only non-governmental person in the committee. After one year of intense campaigning in the entire state of Tamil Nadu, RWH was made mandatory by the govt. in every building, old and new, and the residents were asked to comply with it within a period of one year failing which they were threatened with disconnection of municipal water supply. Tamil Nadu was the first state in the entire country to do this and is now being adopted by other states like Maharashtra, Kerala, New Delhi, though only for new buildings.
---
---
---
WHY US?
The Architecture Times is an Online Architectural Journalism platform to inspire and spread knowledge among the Designing Mass in India.
Contact Us
The Architecture Times, Indore
info@thearchitecturetimes.com
Follow Us
© Copyright 2019 - The Architecture Times