Architect Hafeez Contractor – The Firm
Architect Hafeez Contractor [AHC] is the leading architectural design consultancy firm, of India. The company has grown from a modest three-person firm in 1982 to having a team strength of over 550 plus people consisting of 24 Associates, 60+ Senior Architects, 90+ Architects, 5 Senior Project Managers / Coordinators, 20+ Interior Designers, 10+ Site Engineers, 10 3D Visualizers & Photoshop Artists, 190+ Draughts men, 40+ Support / Technical staff and Student Interns.
The firm prides itself on unique design concept and bold execution, while remaining responsive to the clients' diverse requirements, solutions are crafted appropriately to the needs of each client. The rapid growth, massive body of completed work and impressive clientele bear testimony to the firm's commitment to produce the best in every project commissioned.
DLF Cyber City ( Gurgram)
Pre Cyber Hub era saw Ambience Mall and the HUDA Sector 29 as the 'go to' place each weekend, and when Cyber Hub emerged at the scene, that was possibly Gurgoan. Not just for weekends but weekdays as much. More so, because it is in close proximity to Cyber City -the corporate hub of the city. Amidst the cold, grey, glass and granite world is nested this place where the stiff suits and flashy jeans wind up having fun along with some relish able grub.
Located on NH8, it is strategically placed, connecting Delhi and Gurgaon at an area of approximately 2lakh sq ft. Well connected with rapid metro and the entrance lobbies of all surrounding office buildings making it accessible and comfortable to approach.
DIAL TG1-T1D (Dellhi)
Indira Gandhi International Airport's (IGI) new domestic terminal called T1D which started operating since April 2009 is designed by the prolific architect Hafeez Contractor. Built at a cost of Rs500 crores T1D will cater solely to Low Cost Carriers once the under construction Terminal 3 is thrown open in April 2010. The terminal T1D will raise the domestic capacity of the IGI Airport to 10 million passengers annually.
The challenge of this project was that a lot of critical airport services and utilities had to be relocated before the construction of T1D could even begin. They were shifted to new buildings without interupption and the construction of terminal T1D started within touching distance of the airport runway and other areas.
The Imperial II (Mumbai)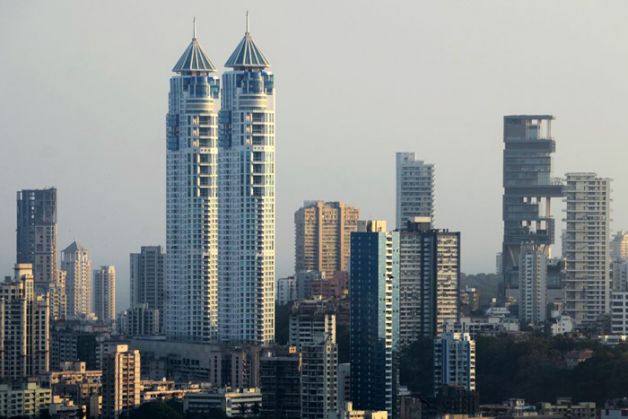 The typical floor plan for the Imperial Towers has only four residential units within the hexagonal floor plate and above the 40th floor all units are duplex. All units have generous outdoor decks with approximately 150–270 degree views. For privacy the decks are located within the floor plan such that they do not overlook the other apartment units. A landscaped podium on the ninth floor provides a green space amenity for the residents.
Discovery Offices Towers (Mumbai)
The Discovery Offices towers lean in opposite directions (five degrees from center) adjacent. It is a 50 Floors Skyscrapers used for Commercial Office and it is being build by Nirmal Construction PvtLtd.Discovery Offices architect is an Indian famous architect firm Hafeez contractor who is also its Structural Engineers. Nirmal Construction Pvt Ltd has mad a contract with Discovery communicationsto construct one of the India's First tall Skyscrapers to achieve a Energy and Enviorment design Platinum rating for environmental sustainability. It is one of the India's Most Eco-Friendly Design Building.It is the tallest building in Mulund and also the tallest building in Eastern Mumbai under construction and when completed. It has a total height of 205 metres (673 ft) and a total floor area of 1,700,000 sq ft (160,000 m2). The construction started on the begin early in 1 March 2011 and is estimated to complete on 1 March 2015. The Discovery Offices towers has a normally ceiling height of 4 metres (13 ft). Its first 10 floors will be used asCar parking floors, and the remaining 40 floors from 11th floor to 50th floor will be used as commercial office and ground will be used as a grand lobby and for also other spaces. It will house a total unit of 470 office units, which will range from 570 sq ft (53 m2) 25,000 sq ft (2,300 m2). The total cost of the Discovery Offices towers is estimated is around ₹10 billion (US$140 million).
Infosys mysore- Awe-Inspiring project
The architecture of software development block 'Infosys building in Mysore' is known for its jagged facades and lopsided fragments style. Thoughtfully designed by Ar. Hafeez Contractor, the unique design concept for this building came to the architect's mind when he visited the site for the first time which is situated on a tremendously contoured site in Mysore.
According to the architect, "The design inspiration came from the rugged profile of the landscape and then I decided on instituting a concept that would echo the spirit of the site." The Japanese traditional concept of Origami (an art of folding paper) struck the architect when he saw the length of the building going unexpectedly long. He noticed that the concept blended very well with the profile of the site and then he decided to implement the principles of this traditional art. Also his ideology while designing was that – the building should stand out as an interface of imagination of the software developers working for Infosys.
Lokhandwala Minerva Mahalaxmi (Mumbai)
It is one of South Mumbai's most significant and striking buildings, soaring 82 Floor super tall skyscraper over midtown Mahalaxmi race-course to take its crown as the city's tallest Residential tower . Lokhandwala Minerva has embodied a number of firsts in Mumbai city-Realesate Market – the first residential tower to go above 1,000 feet
Nowhere else in Mumbai can you find a setting quite like this: a quiet, purely residential community with lush natural landscapes and a stimulating cosmopolitan centre nearby. With nothing separating you from nature you can retreat into your peaceful surroundings or venture a few steps beyond and engage with the excitement around you
---
---
---
WHY US?
The Architecture Times is an Online Architectural Journalism platform to inspire and spread knowledge among the Designing Mass in India.
Contact Us
The Architecture Times, Indore
info@thearchitecturetimes.com
Follow Us
© Copyright 2019 - The Architecture Times