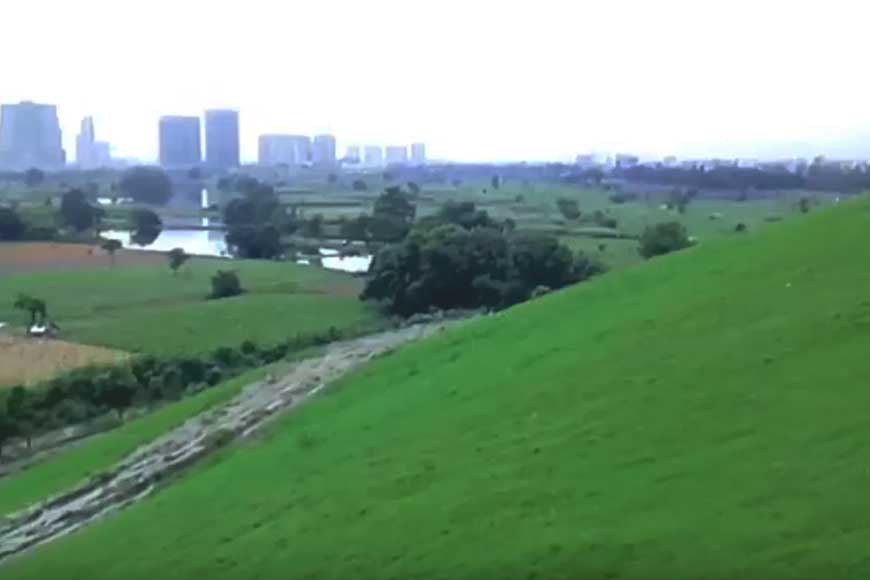 It happens to be Eastern India's largest garbage dumping yard. Usually it is overtaken by garbage burning, ragpickers scavenging through heaps of leftovers and a stench that is overpowering. But that scene would be no more. Instead you will come across a Green Plateau and a valley of verdant greens along with plants. KMC has turned the filth into a natural paradise through a phyto-capping project.
The project cost was around Rs 60 crore. The 11-storied high dump was scientifically closed by engineers a year ago by first wrapping the ground with plastic sheets and then covering it with enough soil to fill in 18 football pitches. The first phase of beautification covers 14.5 hectares of the yard and it now looks like a green valley. The next phase will cover 23 hectares more. A 9-10 ft wide road has also been constructed around the mound for vehicles to travel to the 6,000 sqm plateau on top. Grass and shrubs grow along the slopes flower and fruit bearing trees have also been planted on the plateau.
These Article is published at https://www.getbengal.com/
---
---
---
WHY US?
The Architecture Times is an Online Architectural Journalism platform to inspire and spread knowledge among the Designing Mass in India.
Contact Us
The Architecture Times, Indore
info@thearchitecturetimes.com
Follow Us
© Copyright 2019 - The Architecture Times