According to a recent Savills report published over the summer, renter demand has become more discerning. A wave of interest in "lettability" among potential tenants is driving rental market trends. It is forcing a higher standard of finish across UK, and largely, positions character as an important marker of "lettable" properties.
The rise of designer developments – a show flat that offers you a taste of the lifestyle afforded to the inhabitants – is indicative of the wider move towards more discerning house-hunting behaviours in the prime residential sector; for example, design studio Elycion has recently unveiled its show flat at Chelsea Barracks, property developer Londonewcastle has just launched a show flat by Trilbey Gordon at Covent Garden's Chapter House. Roksanda Ilincic, Suzy Hoodless, Tara Bernard and Sophie Ashby are creating lifestyle inspiration in show flats by designer developers, elegantly demonstrating to their buyers the true capacity for great design within the spaces they're purchasing.
This trend really does extend into the rental market. Residential retail company Uncle has cottoned on to the staggering figure that a quarter of the British population is currently living in rental accommodation. Pair this figure with an evolving view of what constitutes a 'lettable' property amongst renters, and it is clear to see the niche the brand is filling. In an exciting new partnership, Uncle has instructed the Tollgard Design Group to create schemes for its UK-wide collection of apartment buildings with made.com furniture.
Rental brand Tipi is also marketing itself on the design credentials of the apartments available, which have been co-designed with Samsung and John Lewis & Partners. One bedroom apartments in these kinds of developments will cost renters upwards of £1,500, with two bedroom homes reaching around £3,000.
The benefits of living in new, design-savvy developments go beyond their purely aesthetic "lettability". For example, Tipi run a no fees, no deposit programme, has on-site amenities like a gym, social spaces, secure parking and events for tenants. Uncle offers similar benefits, including co-working facilities. However, the aesthetic consideration of these rental spaces seems to be worth a premium, and all signs point to retail. As the overall quality of the UK's rental market shifts with the whims of discerning tenants, it is inevitable that the homeware and design retail categories will benefit.
Where furnishing your new apartment is concerned, Tollgard Design group founder Monique Tollgard suggests making two lists before you move in: a Want list and a Need list. She advises spending most of your budget on the pieces you need first. Leave some budget for the Want list, which should include a "final layer" of soft furnishings and accessories. Your bed and your sofa should be the first things on your Need list.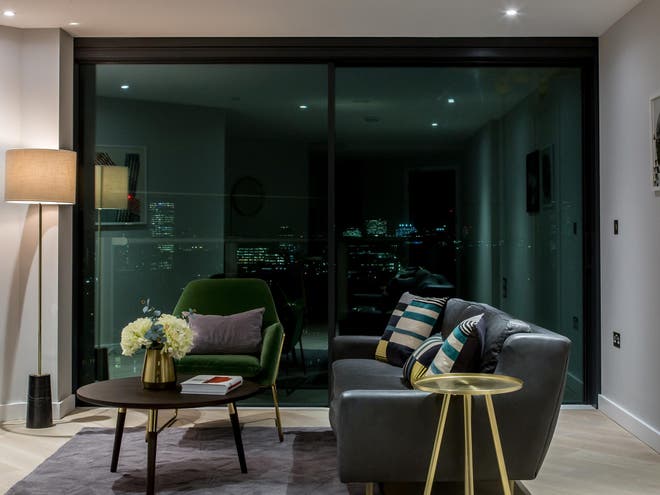 If you're renting in a city, the chances are you will have restricted space. Megan Holloway, marketing manager at Sofa Workshop, suggests one of the first things you should consider when buying a sofa is the way it will actually complement your living room. If you are tight on space, Holloway says: "Look for sofas that are lifted off the floor on slightly longer legs. This will give the impression of further floor space and give the room a lighter feel."
Your Want list should consist of things you truly love, putting your stamp on a space and creating homely warmth. Throws, ornaments and cushions are great places to start, especially as the nights draw in. H&M Home currently stock a range of highly textured throws in sumptuous autumnal colours, while Sheridan have launched a range of cushions for a sleek and glamorous look.
Flexible furniture is also a must-have in rental spaces, which are often tight on floor space. This could include an extendable dining table, a sofa bed, or nesting coffee tables to provide some extra surface space when playing host. Mid-century extendable dining tables are beautifully made, and can absolutely be considered investment pieces. G-Plan models are personal favourites of mine and can be found listed on Vinterior, and Gumtree has some great options too if you're prepared to do some scroll-miles.
Look out for furniture that is modular. This will give you endless layout options, meaning you can easily reconfigure your living room for entertaining – for example British furniture brand Bisley has launched BOB, an innovative storage system that provides "infinite configurations" that click together with concealed magnets. The shelving has been designed in collaboration with designer Paul Kelly.
Marketing director Helen Owen at Bisley says "modern-day storage should be smart and simple. In the office or at home, as a room divide or up against a wall, BOB can be used easily and effortlessly – everywhere." String is another great option for sleek, minimalist shelving with a hit of mid-century modern style. The shelving can grow with you, allowing you to add more shelves to the simple bracket system.
Another great tip for renters is buy items that are easy to clean and maintain. There is a range of fantastic wipe-able fabrics on the market today, including Andrew Martin's new fabric collections created in collaboration with AquaClean. The fabrics are woven using treated yarns that allow day-to-day household stains to be removed with water alone. Made.com has published a useful guide – to looking after your fabrics, upholstery, woods and veneers on its website – which offers tips such as regularly 'shaking' your foam-, feather- or fibre-filled cushions as often as possible.
Finally – if you're lucky enough to have some outside space – even a small balcony or yard, make sure you use it to your advantage.
Tollgard believes that one way to approach your outside space is to use it to create the illusion of increased internal square footage. She says, "outside lighting is a must, to extend the view from the inside of your apartment out onto the terrace. Without lighting on the terrace, the windows become a black mirror reflecting the interiors back." She suggests, "using planter and floor standing lanterns to create pools of light."
Lighting Direct offer sleek LED-planter light models, while Fermob's Balad Upright Stand light is a good option if you're looking for floor lamps. Robert Soning, COO and founder of Londonewcastle, is an advocate of outside space as a place for mindfulness, especially if you live in a bustling city. He says, "gardens and outdoor spaces where you can enjoy nature can be beneficial in so many other ways. Having a tranquil space to practice mindfulness or a spot of yoga promotes good health, both physically and mentally. And if you share a collective outdoor space with others it can really bring a sense of community to an otherwise disconnected city."
These Article is Published at https://www.independent.co.uk/life-style/design/design-generation-rent-pretty-furniture-millennial-a9159971.html
---
---
---
WHY US?
The Architecture Times is an Online Architectural Journalism platform to inspire and spread knowledge among the Designing Mass in India.
Contact Us
The Architecture Times, Indore
info@thearchitecturetimes.com
Follow Us
© Copyright 2019 - The Architecture Times