VTN Architects was recently handed two prizes at the Dezeen Awards 2019. Lê Hương chats with owner Võ Trọng Nghĩa about the prizes and his passions, and on winning the Architect of the Year title.
Inner Sanctum: Please tell us about the buildings you designed that won you the awards

The Viettel Academy, on the western outskirts of Hà Nội, won the Civic Building of the Year 2010, and a private house in District 7, HCM City, called Stepping Park House, won the Highly Commended title for Urban House of the Year 2019. The first was built mainly from raw bricks surrounded by trees. Both are friendly to the environment and try to connect nature and people. We used raw materials like trees and plants to make the buildings look like parks in Hà Nội and HCM City.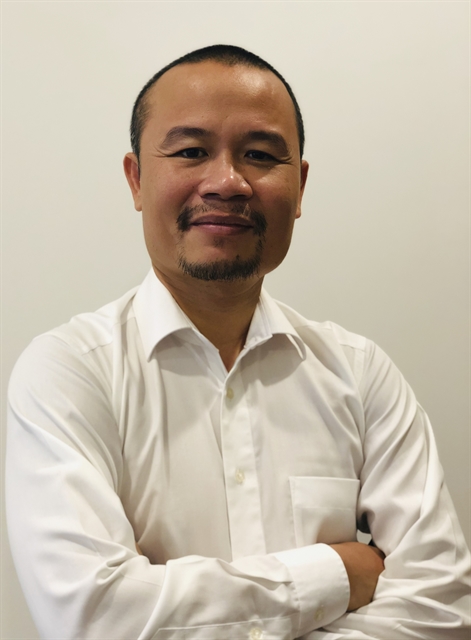 Inner Sanctum: How important are the Dezeen Awards to architects?
dezeen.com is a leading site on architecture and interior decor worldwide, which attracts a lot of viewers. They host the awards on a large and professional scale.
For us, the prizes will promote our company to international architects. In the past two years, I have focused on meditation in Myanmar, so I have not had many opportunities to meet investors. The prizes will help us to become known widely and bring us more new contracts.
Inner Sanctum: It seems you have focused on "green architecture". Could you define "green architecture" and how you have applied the concept in your designs?
Green architecture is an inevitable global trend. There are many ways to approach it but green architecture's main goal is to be environmentally friendly by cutting the use of electricity and water. Green architecture does not necessarily include green trees.
The Viettel Academy and the Stepping Park House are both relevant to this concept. Each building is like a park in a big city. We would like to build more parks in cities, literally.
A corner of the Viettel Academy in Thạch Thất District, Hà Nội. VNS Photo Đoàn Tùng

The buildings also use natural ventilation systems, so they need less power for air conditioners. We also use traditional materials like cement, wood, bricks and solar panels.
Inner Sanctum: You said you have been meditating in Myanmar. Can you tell us more about that, and how did you manage your company from abroad?
As Buddha taught, meditation starts from precept, and the capability to focus and enhance understanding of the existence of materials and spirits.
The meditation is based on precept. A monk should avoid five things: lying, stealing, illegal sex, killing animals, and alcohol and other addictive drinks. It's difficult.
If our spouses keep precept, we are the first to benefit. That person never tells lies, never steals, never has affairs, never kills animals, and never imbibes additive drinks, and becomes a good friend, husband, wife, parent, child, boss or co-worker.
In a society with the internet, TV and media, people's brains have been "polluted". They can only focus for few seconds. That's a not peaceful status. They cannot recognise the truth as they can only focus for a short time.
But if they meditate, they can focus longer. They can think about serious matters. When they reach a certain level, their hearts also reach peace, and they can see existence in different worlds.
Thanks to that focus, work becomes easy. My driver now takes meditation classes three hours in the morning and three hours in the afternoon. My staff can meditate for two hours a day and still manage their tasks, which are first and foremost conditions to work for my company.
Ten people in my company have reached a level of meditation master. They can focus on making the perfect products and have high productivity.
Inner Sanctum: Your company has initiated a campaign called "Covering Việt Nam with Green". Could you brief us about that?
We have planted trees at schools in Quảng Bình Province. I just visited my homeland in the province and bought locals thousands of trees to plant.
We aim to plant trees all over Việt Nam and the whole world. We encourage people with more initiatives to join us. People can plant trees in their gardens at home. However, to get permission to plant trees in Việt Nam is not so simple, I know. We will implement the campaign in other localities, especially in border areas. We have sent letters to ask for co-ordination from local authorities in the north. We hope to plant big forests. We have sent 6,000 small sưa đỏ (fragrant rosewood) trees to people in Quảng Bình.
Inner Sanctum: Of the dozens of green architecture designs, what do you like most? How do your designs vary with time?
I cannot remember how many buildings we have designed. Each building has its own special feature. For example, a 50sq.m - private house can become a small park, which can have as big impact like the Viettel Academy. It's difficult to tell which design is my most favourite. I can say the Viettel Academy is one of my favourites.
An overview of the Viettel Academy in Thạch Thất District, Hà Nội. VNS Photo Đoàn Tùng
My designs change frequently according to the development of techniques. I still use traditional thinking to construct natural ventilation systems, using natural light. Now I apply more up to date techniques like solar power energy and water treatment systems.
Inner Sanctum: Please tell us about the price of green designs?
It depends on the "green" concept. Our buildings come at an average price. The expense does not decide whether the building is "green" or not. The cost can grow if the owner installs a solar power system.
Inner Sanctum: What plans do you have for your designs and the company?
I don't have many plans for my company apart from encouraging my staff to going. Even people who have left the company say it's the best place they have ever worked, with many honest and kind-hearted people. To start it can be difficult for new staff. But when they get used to it, they can work effectively. Working conditions are healthy and friendly at our company. I want to build branch offices in Hà Nội and Đà Nẵng with proper facilities for our staff to meditate, where they can swim and practise yoga.
I will use new techniques to asses how much electricity it takes to run a building, how much to water the plants, how much water can be recycled. I hope to develop a zero power system one day.
Our office in HCM City is an example, where rain water is stored and used to water plants, while minimum electricity is used for air-con units. VNS
This Article is Published at https://vietnamnews.vn/
---
---
---
WHY US?
The Architecture Times is an Online Architectural Journalism platform to inspire and spread knowledge among the Designing Mass in India.
Contact Us
The Architecture Times, Indore
info@thearchitecturetimes.com
Follow Us
© Copyright 2019 - The Architecture Times