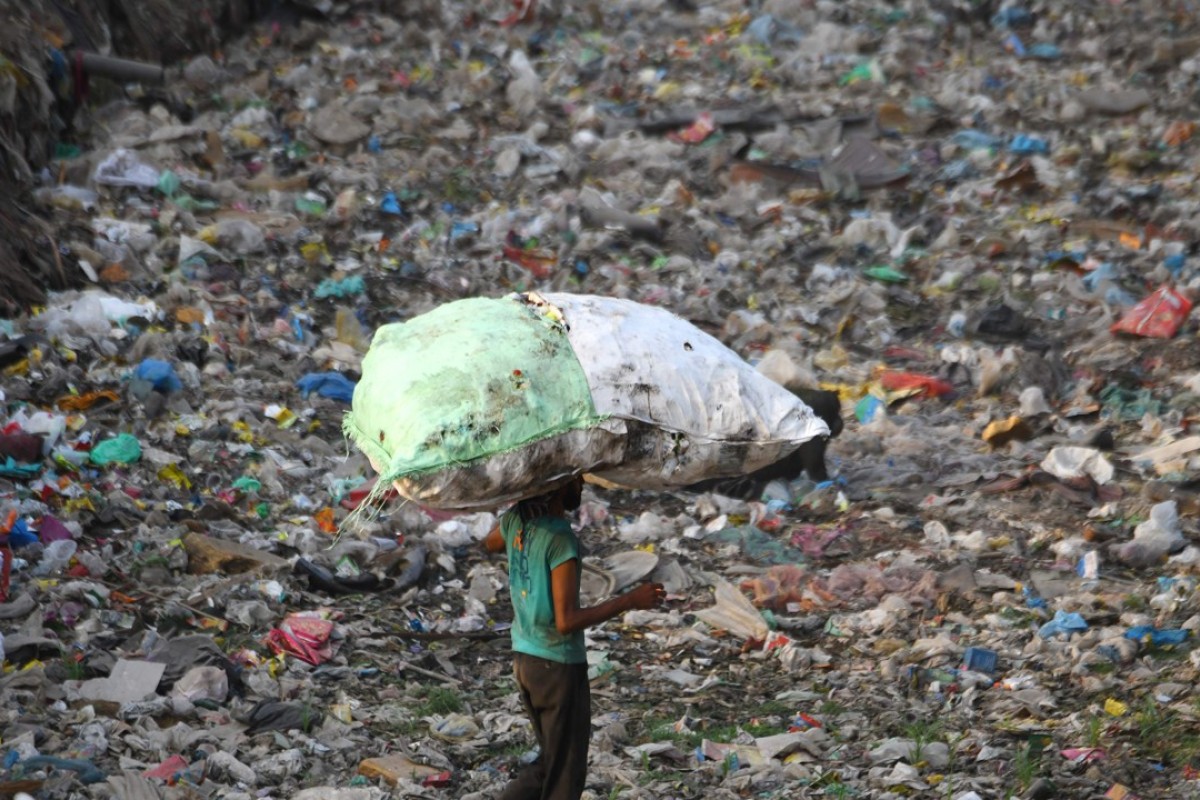 Everyday India produces 25,940 tonnes of single-use plastic waste which clogs our drains, rivers, canals and oceans. It takes over 400 years for a single-use plastic to decompose. But the question is, what can we do about it?
The Swachh Bharat Abhiyan which targeted open defecation in especially in rural areas was Modi government's one of the first flagship schemes. Several public toilets were constructed under the scheme. However, even today cities like Delhi lack the adequate number of public urinals and toilets.
In 2014, Ashwani established BasicShit to solve sanitation problems by creating innovative public urinals across cities and implemented projects for cleaning and greening urban areas through research-driven innovative solutions.
BasicShit has come up with an eco-friendly 'PeePee' public toilet made out single-use plastic which is thrown away as garbage. Each PeePee toilet can eliminate more than 9000 single-use plastic bottles from ending up in our water bodies. These toilets require no water to clean and are smell free. Ashwani, the founder of BasicShit came up with this idea after studying various aspects of public urination around the country. He has authored several research papers and case studies on how public urination affects public health in urban areas.

Till now Ashwani tried and tested multiple urinal designs across the country out of which 30 – 40 units still working. He spent his own money on research and development and also he received a grant received from Asian Development Bank.
PeePee urinals from recycled plastic waste

As per the latest data from Swachh Survekshan 2019, Delhi has just 3000 public toilets for men and 30 for females for a population of 18.6 million.
Public sanitation problems in urban areas are constantly undermined especially when it comes to public urination. Due to the lack of proper public urinal and sanitation facilities, peeing in public has become a habit.
In many places, though urinals are present they are not easily accessible and wherever present, they aren't properly maintained; leaving the public with no choice. He as a warrior against the public urination menace; strongly felt the need to work towards solving this problem and create a street urinal which takes less space, uses less or no water, is odour free and can be installed quickly.
After refining his urinal designs he came up with PeePee toilet. The total cost to construct one unit of this toilet is Rs 12,000. The complete structure of the PeePee toilet is made from recycled single-use plastic material collected from streets. The toilet can be assembled and installed on-site in 2 hours. As it requires no sewage connection, urine is collected in drums, recycled and used for agriculture purposes.
PeePee urinals will be installed across Delhi and will be accessible at every 10 minutes walking distance.

Here are some features of PeePee urinal design for males

The setup of PeePee urinals offers an eco-friendly way to dispose of urine which reduces the load on the public sanitary infrastructure. These urinals are connected to Pee-Cartridge which process the fresh urine to extract urea which acts as a very good fertilizer. This process helps reduce the urea and ammonia effluents in the nearby water bodies, thus helping preserve aquatic wildlife and natural resources.
The toilets are free to use for all users. It is an on-site urinal system for males and uses reflective signage for easy visibility at night for people travelling on roads and streets.
As part of the initiative, BasicShit has already set up toilets in various localities to let the citizens know about usability patterns and the success rate of those toilets.

Self Sustainable Toilet Design.

Odourless urinal, clean & hygienic.

No Sewer required

No water required

Not using a chemical to clean the toilet.

Free to use

Easy to installed

How does PeePee urinal convert urine to fertilizer

Human urine is first collected in two Pee-Carriage. Each Pee-Carriage have a capacity to hold 200 litres of urine. Each day on average 150 litres of urine is collected from each PeePee unit in one day. The collected urine is stabilised and purified with activated carbon which safely eliminates all pharmaceuticals and hormones.
Then the distiller eliminates all pathogens and reduces the liquid volume by 50 per cent. The last stage produces water and fertiliser for the plants.
Location survey and identifying spot through BasicShit app

You can tell exactly where you want the toilets to be installed, or

BasicShit can do a survey and identify local spots for toilets using our state of the art BasicShit App, which marks physical spots using GPS and helps identify best open urination hotspots.

Full design and installation of the toilet as per your community's need.

Fix up a maintenance schedule and provide training to maintenance staff so that they can help you run these facilities without any headaches.
Ashwani is aiming to build 100 PeePee urinals and install them on the streets, where every corner stinks and need a smart solution. Each city one at a time. Let us come together and help him in building urinals.
Support BasicShit's initiative in all the ways to help fight the battle against public urination hazards and to build environmentally and economically sustainable urinal systems in all the dirty corners of our cities.
Sources : effortsforgood.org
---
---
---
WHY US?
The Architecture Times is an Online Architectural Journalism platform to inspire and spread knowledge among the Designing Mass in India.
Contact Us
The Architecture Times, Indore
info@thearchitecturetimes.com
Follow Us
© Copyright 2019 - The Architecture Times