Eshima Ohashi Bridge Japan

This 44 meters high bridge is something you might want in games & not reality. But this roller coaster bridge is a daily route for japan. The Eshima Ohasi bridge connects the cities Matsue & Sakaiminato. You should definitely check your brakes before entering this bridge. Good luck drivers
The Helix Bridge, Singapore

The Helix Bridge, officially The Helix,and previously known as the Double Helix Bridge, is a pedestrian bridge linking Marina Centre with Marina South in the Marina Bay area in Singapore.It was officially opened on 24 April 2010 at 9 pm; however, only half was opened due to ongoing construction at the Marina Bay Sands.It is located beside the Benjamin Sheares Bridge and is accompanied by a vehicular bridge, known as the Bayfront Bridge. The entire bridge was opened on 18 July 2010 to complete the entire walkway around Marina Bay.
Rolling Bridge, London

The Rolling Bridge is a type of curling movable bridge completed in 2004 as part of the Grand Union Canal office and retail development project at Paddington Basin, London.Despite the connotation of its name, it is more accurately described as "curling".
Langkawi Sky Bridge, Malaysia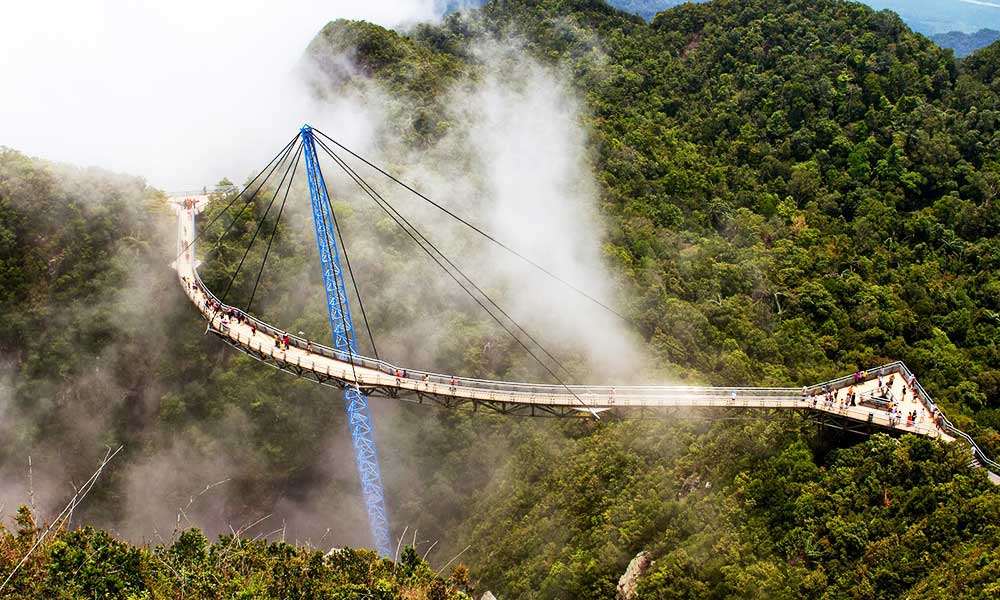 Langkawi Sky Bridge is a 125-metre (410 ft) curved pedestrian cable-stayed bridge in Malaysia, completed in 2005.The bridge deck is located 660 metres (2,170 ft) above sea level at the peak of Gunung Mat Cincang on Pulau Langkawi, the main island of the Langkawi archipelago in Kedah.The Langkawi Sky Bridge can be reached by first taking the Langkawi Cable Car to the top station, where an inclined lift called SkyGlide takes visitors from the top station to the bridge.
---
---
---
WHY US?
The Architecture Times is an Online Architectural Journalism platform to inspire and spread knowledge among the Designing Mass in India.
Contact Us
The Architecture Times, Indore
info@thearchitecturetimes.com
Follow Us
© Copyright 2019 - The Architecture Times