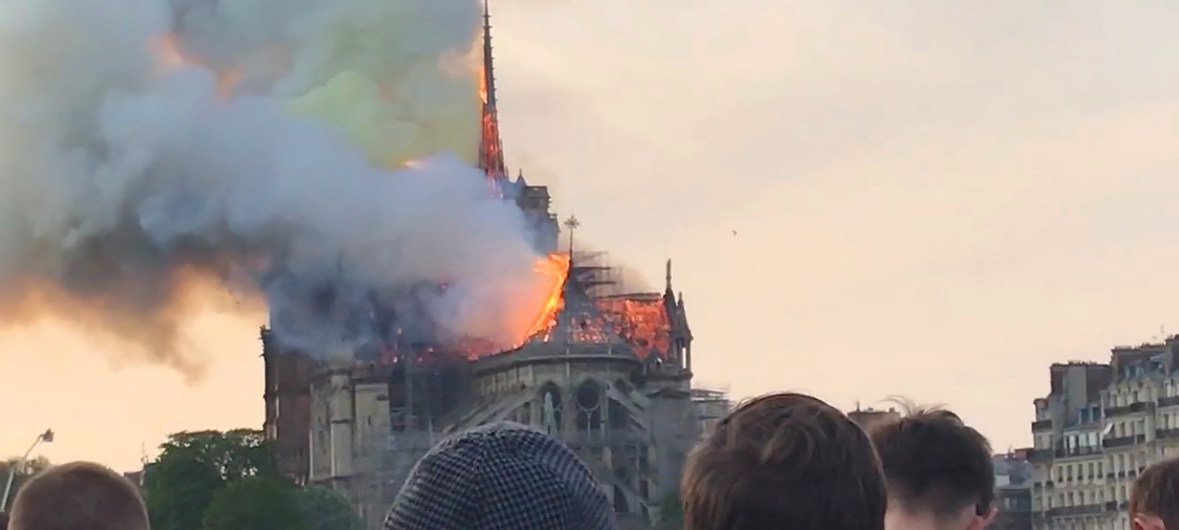 Notre-Dame After the Fire: A catastrophic fire engulfed Notre Dame Cathedral in Paris on Monday, altering the city's skyline and threatening a potent symbol of Catholicism at the start of Holy Week. The fire burned for several hours, destroying the 850-year-old cathedral's iconic spire and roof before firefighters contained the blaze early Tuesday morning.
Officials released new details of the fire late Monday, with the Paris fire chief, Jean-Claude Gallet, saying it started in the attic at 6:30 p.m. More than nine hours later, the authorities said the fire was "under control," but that a hole in the timber roof left by the cathedral's fallen spire continued burning into Tuesday morning.
Notre-Dame is famous for featuring in Victor Hugo's classic novel "the Hunchback of Notre-Dame". Its first stone was laid in 1163 in the reign of Louis VII, as the medieval city of Paris was growing in population and importance, becoming the political and economic centre of the kingdom of France. Construction continued for much of the next century, with major restoration and additions made in the 17th and 18th century.
The Descent from the Cross (or Pieta) statue by Nicolas Coustou in Notre Dame.
Smoke rises in front of the altar cross inside the Notre Dame cathedral.Philippe Wojazer/AFP/Getty Images
Philippe Wojazer/AFP/Getty Images
Dan Kitwood/Getty Images
Photo via AFP
In addition to damaging the building itself, the fire tore through the cathedral's roof, and put at risk its relics and stained-glass windows, with panes held together by lead that melts at high temperatures. While one treasure, a relic of the crown of thorns said to have been worn by Jesus Christ during his crucifixion, was saved, the status of other historic items is unclear.
But the roof, a vast wooden framework covered with sheets of lead, appeared to be largely gone, he said. Earlier tests on the roof showed that the wooden frame was for the most part the same oak and chestnut structure constructed by the very first builders. It lasted so long because the roof was regularly repaired and watertight. But that meant the wood beneath was very dry and could burn easily, he said.
It was in the midst of renovations, with some sections under scaffolding, while bronze statues were removed last week for works. Relief efforts are already being organised, with French President Emmanuel Macron declaring that the destroyed parts of the cathedral would be rebuilt with the help of a fundraising campaign.
This article was originally published on https://www.arch2o.com/photos-from-inside-notre-dame-after-the-fire/
---
---
---
WHY US?
The Architecture Times is an Online Architectural Journalism platform to inspire and spread knowledge among the Designing Mass in India.
Contact Us
The Architecture Times, Indore
info@thearchitecturetimes.com
Follow Us
© Copyright 2019 - The Architecture Times